What Can You Put in a Skip?
Before requesting a quote and making arrangements for a skip it is a good idea to check what you can put in a skip. Many people are surprised that not all waste can be thrown into a hired skip, but there are important reasons that some items are restricted, including health and safety regulations. Fortunately, most items that cannot be put in a skip will be collected then recycled or disposed by your local council, as we will explain below.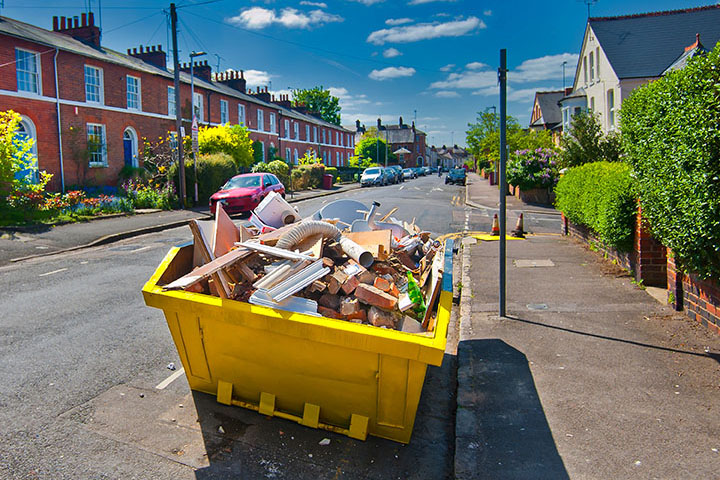 What you cannot put in a Skip?
Generally, items deemed hazardous or harmful cannot be put in a skip due to skip hire and waste disposal rules and legislation. It is important that these items are not placed within your skip, as skip companies may refuse to remove the skip or charge you extra for the correct disposal. Below are the most frequent items that you cannot put in a skip.
Asbestos
Batteries (Car & Household)
Compressed Gas Cylinders
Computer Monitors
Computer Towers
Chemicals (bleach, cleaning detergents, etc.)
Electrical Equipment (Electric Fans, Electric Cookers, etc.)
Explosives
Fluorescent Bulbs
Fridges
Fuel (petrol, diesel, etc.)
Medical Waste
Microwaves
Oil (motor, cooking, hydraulic, etc.)
Paint Tins (unless empty)
Plasterboard
Solvents (paint, glue, etc.)
Telephones
Televisions
Toasters
Tyres
What you can put in a Skip?
The list below highlights just a few of the items and materials you can put in a skip. If your waste items do not fall into any of the categories above, and are not hazardous or harmful, it is likely that you won't have any problem throwing them in. If in doubt, you can always contact your skip provider for clarification.
Bricks
Cardboard
Domestic Waste
Empty Tins
Fittings (non-electrical)
Food & Food Packaging
Furniture
Gas Cookers
Garden Waste (clippings, leaves, etc.)
Metal
Plastic
Polystyrene
Rubble
Soil
Solidified Paint
Wood
Can you put Asbestos in a skip?
No, asbestos is a hazardous material, and must never be put in your skip. There are government enforced rules and regulations regarding the proper disposal of asbestos, and it is illegal to reuse or recycle materials that contain asbestos. If you find asbestos on your property, you must use a specialist asbestos removal contractor. A lot of properties in the UK have asbestos, and there are a number of factors that can influence your asbestos removal cost, including the amount and type of asbestos. Your local council can also provide you with advice and assistance with how to deal with and correctly have the asbestos removed.
Can you put Car Batteries in a skip?
No, batteries of any kind are not allowed, and that means that car batteries cannot be put in a skip. Batteries are full of chemicals and hazardous waste (including lead) which can be harmful, so should be recycled in collection boxes often found at supermarkets, and public places. Car batteries can often be recycled at your recycling centre. Your local council should be able to provide you with information on your closest car battery recycling point.
Can you put Gas Cylinders in a skip?
No, you cannot place gas cylinders into your skip, regardless of whether the cylinder is empty or full. Skip hire companies are not licensed to carry gas cylinders, and the residual contents can be dangerous. There are numerous options for recycling gas cylinders and bottles, and often you can return the bottle to where you purchased it, as they will often be able to refill and reuse the gas cylinder. The British Compressed Gases Association has a great list of companies who recycle and dispose of gas cylinders.
Can you put Plasterboard in a skip?
No, if you have a mixed waste skip, plasterboard can't be put in your skip. Some skip hire companies will accept plasterboard, and other gypsum based products, as long as it is the only waste placed in the skip. Alternatively, plasterboard bags are commonly used to ensure the plasterboard is kept separate from the other waste. To a lot of property owners hiring a skip for the first time, this may seem a little strange, but there is a good reason why you can't put plasterboard in a skip with other materials. The Environmental Agency made the decision that plasterboard and other gypsum materials must be disposed separately to other waste materials in light of scientific research highlighting the complex relationship between waste materials containing sulphate and the production of hydrogen sulphide gas. You can read more about plasterboard in our blog post – Why you can't put plasterboard in a skip?
Can you put Tyres in a skip?
No, due to the work required when disposing tyres, you can't put tyres in your skip. When having a tyre professionally changed, your fitter will often correctly dispose of your old tyre, either for free or a nominal charge. Tyres can be recycled stripped down to produce everything from plant pots to rubber floors for gyms and playgrounds. If you have some spare tyres lying around, the Tyre Recovery Organisation can help you find a nearby tyre collector.
Can you put Medical Waste in a skip?
No, you can't put medical waste in a skip. Medical waste requires specialist disposal, and there are numerous licensed medical waste disposal providers throughout the UK. Medical waste can range from biological waste to needles, which be dangerous to skip operators and requires appropriate disposal. If you have medical rubbish and waste, you can find advice and guidance on the correct disposal of healthcare waste.
Can you put Electrical Equipment and Appliances in a skip?
No, electrical appliances and electrical equipment can't be put in your skip. Some of the electrical items not allowed include fridges, microwaves, electric cookers, freezers, televisions, dishwashers and computers. Waste electrical items can be taken to a registered WEEE (Waste Electrical and Electronic Equipment) recycling centre. You can find out more about WEEE, including the different categories, on the Health and Safety Executive website, and your local council can help you find a nearby WEEE centre.
Can you put Paints, Solvents or Fuel in a skip?
No, paints, solvents and fuels are all dangerous chemicals, and skip hire companies are not able this hazardous waste. These materials can result in chemical burns, as well as combustion. You will need to take these items to a specialist and licensed disposal centre. Many local council authorised recycling centres are able to take all or some of the above fluids, so get in touch with your local council to find out more. Dried paint does not pose any risk, so can be put in your skip.
Can you put Fluorescent Bulbs in a skip?
No, fluorescent bulbs contain hazardous materials, such as mercury, so can't be put in your skip. Once again, you will have to use a specialist service, and often your local council recycling centre will have a facility to accept your old fluorescent bulbs.
Can you put Soil in a skip?
Yes, soil can be put in your skip, as long as the soil is not contaminated with hazardous material such as oil, solvents, paint, etc.
Can you put Paint Tins in a skip?
Yes, you can put paint tins in your skip, but only if they are completely empty. If your paint tins still contain paint, you should contact your local council to arrange disposal.
Can you put Televisions in a skip?
No, televisions are a WEEE product, so must be correctly disposed. Your local council can provide you details of your closest WEEE recycling centre.
Can you put Fridge in a skip?
No, fridges are a WEEE product (along with most electrical items in your home that have a power plug or run of batteries), so must be correctly disposed. Your local council can provide you details of your closest WEEE recycling centre.
Can you put an old Bath Tub or Toilet in a skip?
Yes, old baths and toilets, along with most non-electrical appliances and accessories, can be put into your skip.
Tips & Advice
Skip hire companies are charged for every item that they put into landfill, so there is a great incentive to recycle, and skip companies commonly recycle in excess of 80% of the contents you put in a skip, making it a very sustainable method of waste disposal. This is also another reason that there are limitations on what you can put in your skip, as skip firms are not always licensed or permitted to deal with certain types of waste.
If you have any questions or doubts as to what you can and can't put into your skip, you can contact your skip provider or local council for rules and regulations in your local area, as certain areas and companies may differ to our list above.
Knowing what you can and can't put in a skip will help you determine what size skip you will require. For more information on skip sizing, why not head over to our skip size guide.
How do I find a skip hire company?
If you have had a look at our list above, and are happy that you still need a skip for your waste, request a quote for a great deal on our skip hire services. With our service, you can request a quote and compare prices to ensure that you receive the best skip hire deal for your requirements.