10-yard Skip Hire
For large amounts of waste, you will need a large skip. 10-yard skips can hold a considerable amount of waste, but are still small enough for many domestic jobs, making them extremely versatile for an array of different projects in commercial and domestic fields.
How much does a 10-yard skip cost to hire?
There are a number of factors that are likely to influence the cost of hiring a skip, including your location, the type of waste you want to throw away and even the number of local skip providers in your area. On average, the cost to hire a 10-yard skip is between £170 – £210.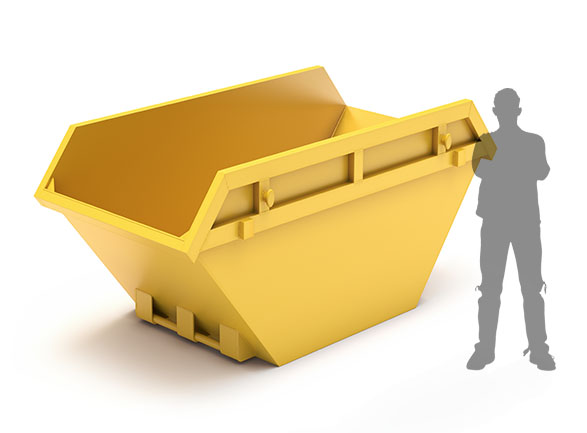 How much waste can a 10-yard skip hold?
A 10-yard skip normally provides more than enough space for larger home improvement projects, as well as many building and commercial projects. A 10-yard skip can hold approximately 100 black bin bags of rubbish.
What are the dimensions of a 10-yard skip?
Variations in skip dimensions is common between different skip providers and manufacturers, so following dimensions should be used as a guide. A common 10-yard skip will have dimensions of approximately 12ft (3.66m) Long x 6ft (1.83m) Wide x 6ft (1.83m) High.
What can I put into a 10-yard skip?
Skips are extremely popular throughout the UK, mainly due to their convenience, affordable pricing and range of waste that they can take. Whilst most waste can be thrown into a skip, it is important that you are aware of possible restrictions. Items that cannot be thrown into a skip include asbestos, hazardous materials, gas cylinders, electricals, tyres, fluorescent bulbs, chemicals and paint.
What types of jobs are 10-yard skips useful for?
The size of a 10-yard skip makes is a popular choice for a number of different jobs, with both commercial and domestic clients. These skips are often among the largest hired by DIY enthusiasts, as they provide ample room for most home improvements. They are also commonly used for office clean ups and shop fittings.
Will I need a skip hire permit?
Whether or not you will need a permit is dependent on where you plan to place your skip. If you place your skip on privately owned land, you will not require a skip permit. If you do need to place the skip on council land, such as a public road, then you will require a permit. Permits are issued by your local council, but in most instances, your skip provider will apply on your behalf. Skip permit prices vary depending on your location, and often range from £15 to £60.
For the best 10-yard skip hire deals, request a quote today!