16-yard Skip Hire
Of all of the available Maxi skips, our 16-yard skips are one of the most popular. These extremely large skips are perfect when you will be creating a substantial amount of waste, and want the convenience of disposing of your waste as it is created.
How much does a 16-yard skip cost to hire?
The cost of hiring a skip varies a lot throughout the UK, with prices in differing prices for different regions. Prices are also influenced by what waste you put into your skip, as well as the number of local providers in your area. The average price to hire a 16-yard skip is £220 to £265.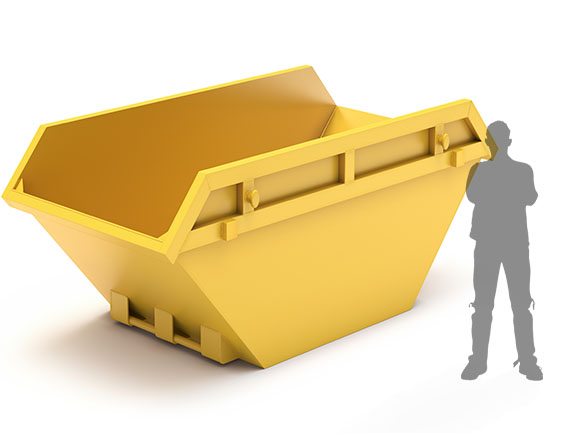 How much waste can a 16-yard skip hold?
These skips are very large, with only the 18-yard skip larger in the maxi skip range. A 16-yard skip can hold approximately 170 black bin bags worth of waste.
What are the dimensions of a 16-yard skip?
The 16-yard skip is large, and has dimensions of approximately 13.5ft (4.11m) Long x 6ft (1.83m) Wide x 6.5ft (1.98m) High. The exact dimensions may vary slightly due to different skip manufacturers, but the capacity will remain the same.
What can I put into a 16-yard skip?
Whilst most types of waste can be thrown into a skip, it is important that you are aware of a few exceptions. Items that are prohibited in skips include hazardous waste, asbestos, gas cylinders, electricals, tyres, paint, chemicals and fluorescent tubes. If you are unsure of whether your waste can be thrown into a skip, it is important that you check with your chosen skip provider.
What types of jobs are 16-yard skips useful for?
These large skips are popular on industrial and commercial sites, such as shop fittings and construction sites, where light and bulky waste is produced. They can also be used by domestic clients for large jobs, such as a complete house renovation.
Will I need a skip hire permit?
If you place a skip on the council's land, a skip permit will be required. Permits are issued by the council, who also set the price. Prices normally range from £15 to £60, and the permits are obtained by your skip provider. If you are able to place a skip on your own land, a permit will not be required, which can reduce the cost of your skip hire.
For the best 16-yard skip hire deals, request a quote today!